With the occurrences of identity theft continuing to rise around the United States, government entities are turning to technology to ensure that driver licenses and identification cards are as secure as possible. All states currently use some or all of these ID card security features: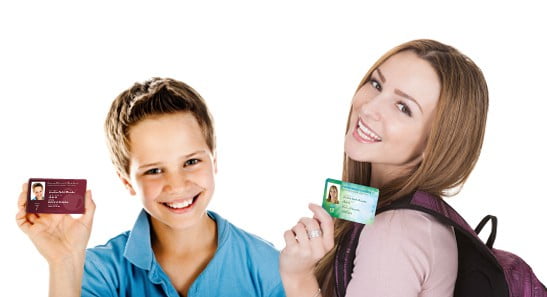 Ghost Image:

This is a faint or half-tone reproduction of the original photo located in the lower right corner near the applicant's personal information.

Guilloche Pattern:

Also called a fine-line pattern, this is a series of two or three lines in a wavy pattern that are present in the background of the driver's license or state identification card.

Laser Engraving:

This technique makes it impossible for potential forgers to remove any information from the card without damaging its surface. Laser engraving can be used for the main photo, ghost image, unique identification number, and several other pieces of applicant data.

Laser Perforation:

This enables those manufacturing the card to create a slight hole with a laser beam that is only visible when held up to a light source.

Overlapping Data:

Text, seals, a digital signature, or the main photo can be placed over other data, forcing an identification thief to eliminate both to forge the card.

Overlay:

This is an extremely thin piece of protective coating that may contain additional visual security features.

Tactile Feature:

This involves raised lettering or other data that doesn't require a special instrument to feel.

Transparent Image:

Some states include a random image, such as the state capitol, that can be viewed from both sides of the document.

Laser Embossing:

This enables the manufacturer to use a laser to emboss data or an image on only one side of the identification card or driver's license.

Rainbow Printing:

The background of the card contains subtle color shifts in a linear pattern.

Opacity Mark:

Also known as a watermark, this translucent mark can only be viewed when holding the card up to light.

Variable Laser Imaging:

This technology allows the image to be incorporated on the card at varying tilted angles.
Polycarbonate film is one of the newest technologies in the battle against identity theft. That is because it offers significantly improved environmental stability, durability, and life expectancy over PVC and other previously used materials. This makes a driver's license or state identification card even more difficult to alter should it fall into the wrong hands.
Wisconsin Claims New Identification Cards and Driver Licenses Most Secure in the Country
In November 2015, the Wisconsin Department of Transportation began issuing cards that it claims are more secure than those issued by any other state. Wisconsin residents applying for a new or duplicate card have the option of receiving the enhanced security card or the current one. However, the high-security cards will be required by 2023. They also allow access to some state and federal buildings and provide enhanced security when boarding an airplane.
Some of the features of the ultra-secure card include polycarbonate film, raised text for the expiration date and photo, a black and white photo using laser engraving, two different colors of print, and the Department of Transportation Logo that is invisible unless held up to the light. Upgrading to the more secure card requires an additional form of identification such as a birth certificate or passport.