Does your MS Access database keep getting corrupted? You may experience such an issue due to large database file size, hardware or software failure, virus attack, simultaneous use of the DB by multiple users, etc. Corruption in MS Access database can render the .ACCDB and .MDB files inaccessible, and put a halt to your work routine. It's strongly recommended to back up the database as a precaution to avoid losing data due to file corruption. Yet, if you haven't backed it up or the available backup is not updated, you can try compacting and repairing your database, by using the Compact and Repair utility, to resolve the issue.
However, the 'Compact and Repair' utility may fail to fix severely corrupted .ACCDB/.MDB db files and can result in data inconsistency. A better alternative is to use a specialized Access repair software to repair and restore the database, maintaining data integrity. In this post, we will review how Stellar Repair for Access software can prove a handy tool in fixing database corruption.
What Makes Stellar Repair for Access a Preferred Database Repair Tool?
The software is purpose-built to help users repair corrupt Access database and restore its objects in a new database without any technical support. It comes with an advanced database scanning technology that can easily parse through severely corrupt Access database files (.ACCDB/.MDB) and recover tables, deleted tables, forms, reports, and all other objects from database tables.
We will be reviewing the software on key parameters: 'setup & usage, 'speed & performance', and 'support'.
Setup & Usage
Downloading and installing the Stellar Repair for Access software is straightforward and takes only a few minutes to complete. Once installed, launch the software. This opens the software's main interface with a 'Select Database' dialog box that provides options to select a corrupted Access database (.ACCDB/.MDB) file.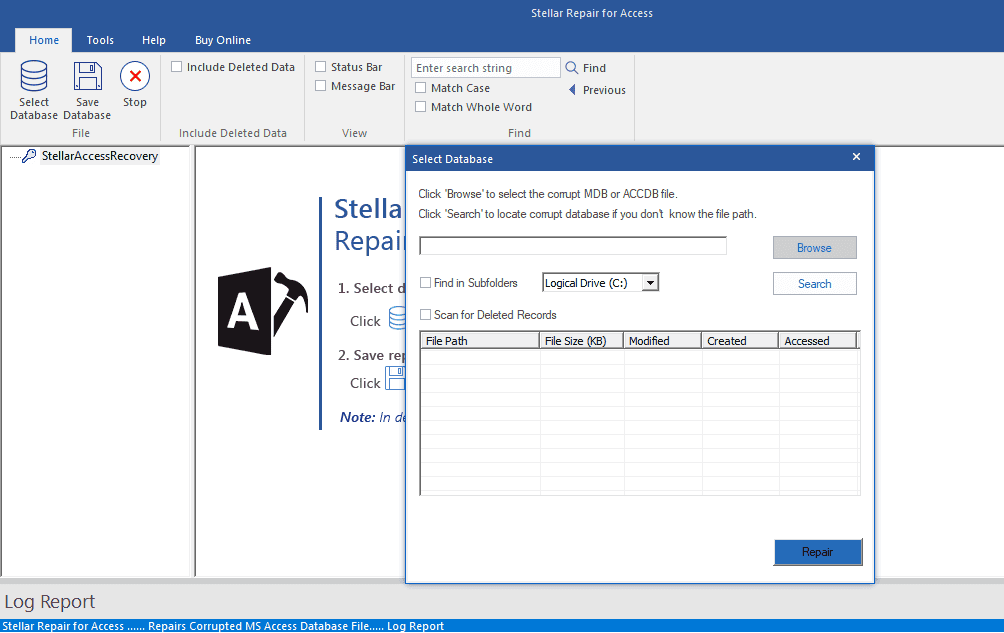 You can either 'Browse' or 'Search' the file that you want to repair. Since we knew the file location, we browsed and selected the file to be repaired. We took a sample corrupted Access database 'Northwind 2007.accdb' file.
Note: If you're not aware of the Access db location, click 'Search' to find and select the db.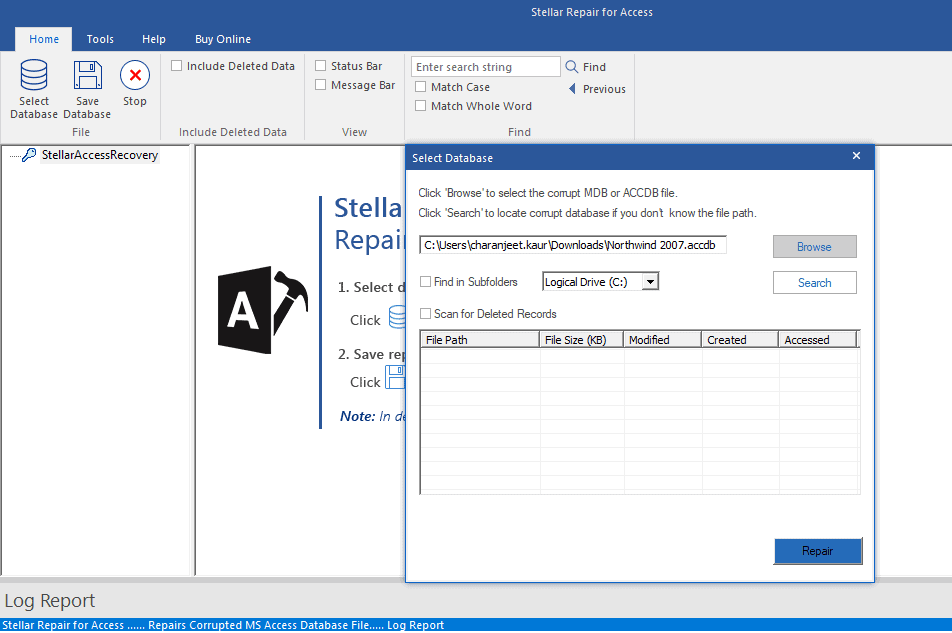 Now after selecting the file, we only had to click 'Repair' and wait for the software to do its work.
Speed & Performance
The software took only a few seconds to repair the sample db file and displayed preview of all the recoverable objects, including Tables, Queries, Forms, Reports, Macros, and Modules.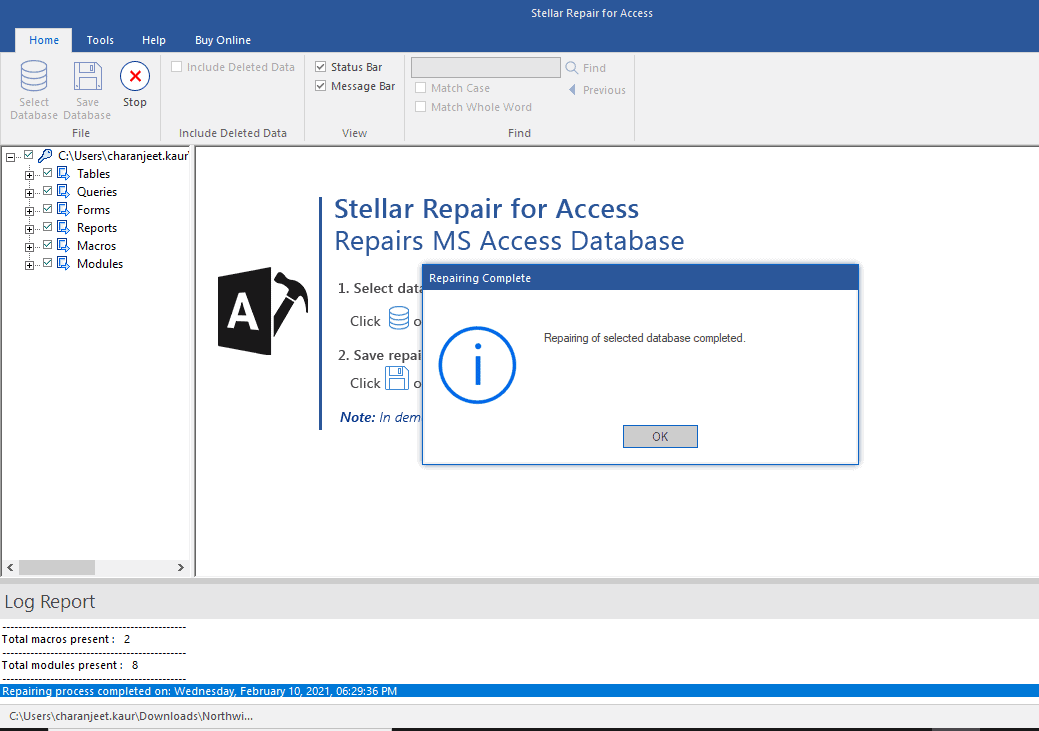 Click on an object to expand its components from the left pane of the preview window, and click on a component to view its content on the right pane.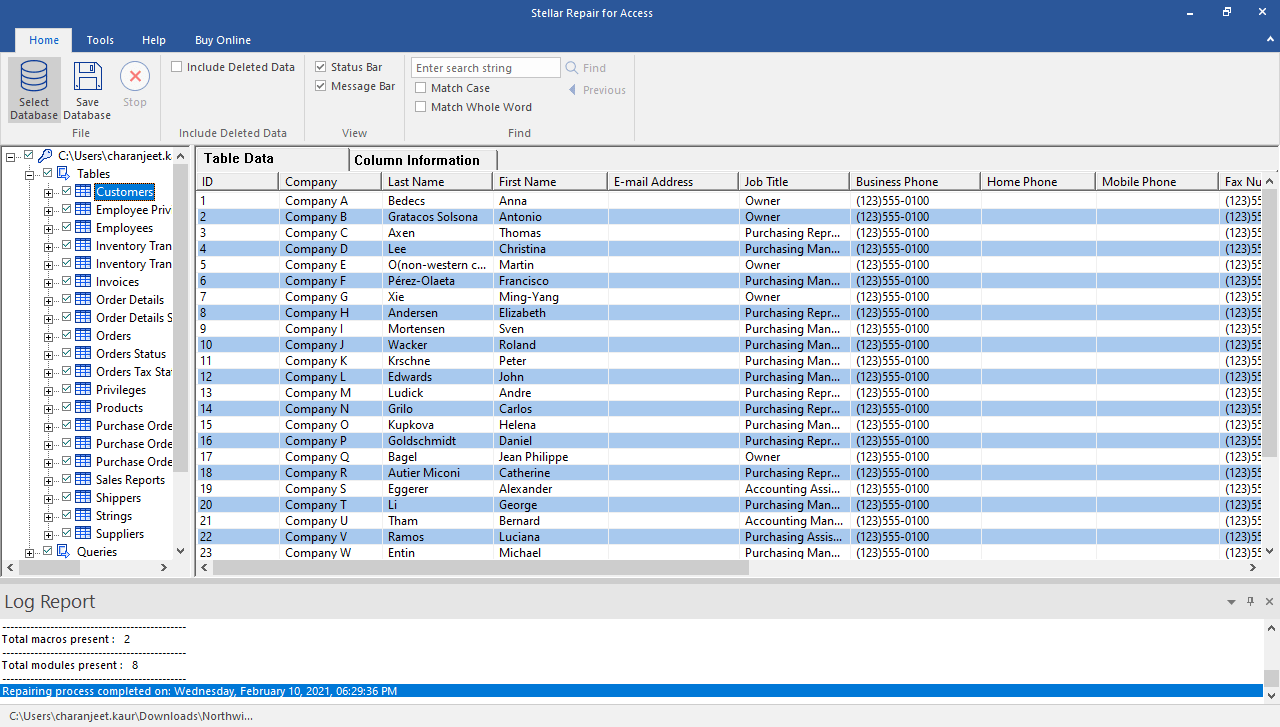 After previewing the file contents, we selected specific Access database objects and clicked the 'Save Database' option on the 'File' menu for saving the repaired file. This opened a 'Save At' dialog box with options to save the file at a default or new location.
Support
We didn't experience any issues with the software and didn't have to contact the support team. But you can communicate with the technical support team that is available 24*5 to respond to user queries. You can also refer to the software's user guide for step-wise instructions to repair an Access database and recover its objects using the software.
Here is a Tool Recommended for Outlook users – Stellar OST to PST Converter
End Note
Stellar Repair for Access is an effective tool that makes the process of repairing an Access database file a hassle-free task. The USP of the Access Repair Software is its simple to use UI that any user can easily operate to repair the file without technical assistance. Additionally, the database file can be repaired in few simple steps, thereby helping users save their time required for troubleshooting a corrupt Access database.
Here's how the software rates (on a scale of 1 – 5): 4.5/5
| | |
| --- | --- |
| Key parameters | Rating |
| Setup & usage | |
| Speed & performance | |
| support | |