Image hosting services are getting popular and being a crucial segment of the web industry. This service can be effectively used to host the image for your forums, blogs, and social network websites. Imgbox is a free image hosting service similar to imgur or imageshack. With imgbox you can easily store photographs and graphics online for free and for a lifetime as well. Further, hosted images can be linked to any other websites or web services such as blogs and forums etc.
Why use imgbox?
It is a 100% free Image hosting service with a simple and clean user interface. Comparing to other Image hosting providers imgbox is fast and provides unlimited storage space. It's features include-
Supports JPG, GIF and PNG image formats up to 10 MB in size
Drag-n-Drop facility to upload the images with ease
Hotlinking to embed the hosted image in other websites, forums or blogs
Unlimited storage space to host the images as many as you can!
Unlimited storage time to host your images for the lifetime
All this possible in lightning-fast speed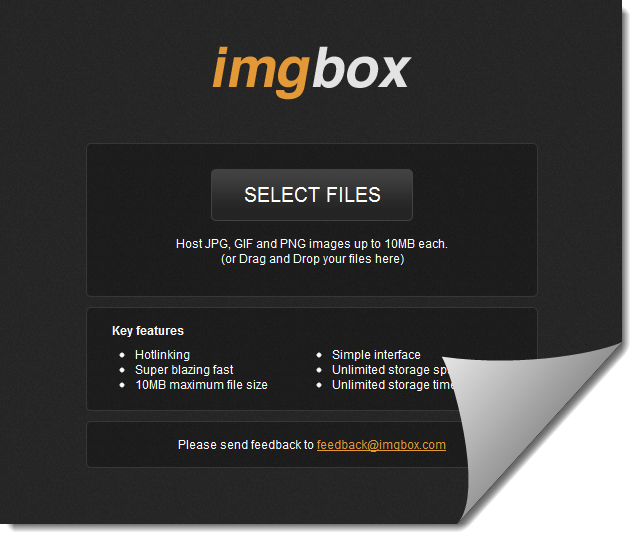 It is useful in saving the bandwidth and webspace of our own website as images utilize the high amount of bandwidth. This is a perfect service to share the photographs of your family and friends, you need not waste your time in attaching the images in your email service, just upload the snaps to it with blazing fast speed and share the link with others. The website is built with simple frame-work, to work with it you just need a browser with Flash and Javascript.
How to work with imgbox?
You can upload the images once you sign-up and login to imgbox. To upload an image-
Click on Upload option
Now click on "Select File" or else you can drag & drop your images in this area
Choose the content type whether your image is safe for work or not safe for work
Select the thumbnail size, you can either choose cropped or resized style for thumbnail
Finally, choose the gallery from your account where you want to upload the image(s), you can even create the new gallery here.
That's it. Now click "Start Upload" button. Now you can share/embed the image with direct link, HTML code or BB code.
Terms to be followed while using imgbox
To maintain the standards of service imgbox has set some protocols. First of all, the user must be eighteen years of age or older. Uploading the copyrighted images, spam images or anti-social images to it can cause to suspend the account.
Website: www.imgbox.com
Advertisement