This is a Guest post by Anastasia Ryan  from Ahrefs.com.
If you know what SEO means, you probably use a tool or two to help you with all the SEO needs. And if you're using such tools, you probably know what a Domain Authority rating is. 
It's an important metric, but here's the thing: it's not important in that way you probably think it is. Meaning, DR ratings don't influence your Google rankings.
What's DR?
Domain Authority metrics have many names. Our colleagues at Moz call them Domain Authority, probably to highlight that more important and trustworthy websites have higher DA scores. We at Ahrefs prefer to call the metric Domain Rating, or DR for short. Either way, that's the same thing.
DA or DR metrics are calculated by what we call 'link juice'. In the simplest terms, the more backlinks your website gets from other websites with high DR, the higher your DR will be. However, there are important caveats you should be aware of.
First and foremost, not all websites with high DR are equal. Backlinks from websites that don't link to other places that frequently will carry more link juice with them. That's why if your site gets a backlink from, say, The New Yorker, your DR will be higher. But if you get a link from, I don't know, Dribbble, you'll see little to no advantages whatsoever.
So far, so good, but here's where a lot of people start to get confused. Domain Rating or Domain Authority metrics seem like the general 'score' of a website. So people naturally assume, that websites with high DR rank better than those with lower DR.
That's not the case.
DR is not a ranking factor
Google doesn't really like confirming SEO stuff and the inner workings of their algorithms, but they made an exception for domain authority rankings. Back in October 2016, Google's own Gary Illyes confirmed, that the company 'doesn't really have overall domain authority' in their ratings.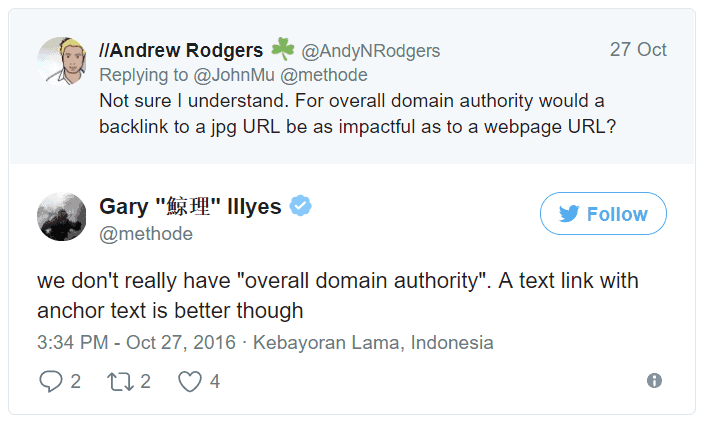 Practically, this means one thing. If you invest time and money into boosting your domain authority, you won't see much results. Google doesn't automatically prefer websites with higher DR. That's why there are lots of websites with high domain authority that you won't find on the first couple of search pages.
Focusing on domain authority ratings in your SEO game can actually be harmful, too. That's because it takes away your time and money — something you could've used elsewhere, to much more productive results.
There are good news, too. If you only starting out with your new website, it's obvious that your domain authority rating will be low. But when DR isn't actually that important, you're free — it's possible to start ranking right from the get go and not wait for months to boost your DR.
How do you do that?
What's actually more important than DR score is the UR score. It's the metric that highlights the score of a particular page or URL on a website.
At Ahrefs, we highlight the importance of URL ratings by placing it before domain authority rating in our info panel.

How you can use DR to your advantage
So after the last section you may find yourself wondering: if domain authority ratings are so useless, why professional SEO toolsets continue showing them?
That's because on its own, DR is an important metric, actually. It's useless in one scenario — when people think that boosting their DR automatically means ranking higher in Google. It doesn't.
But it doesn't mean that DR is useless.
To understand how to use DR metrics to your advantage, you have to understand the term 'link juice'.
Basically, Google and other search engines rank websites by looking at their backlink profiles. If your website has links from big, popular websites, it will rank higher. That's because those links carry a lot of 'link juice' with them.
So, DR is great for your outreach game, for example. It will let you quickly understand if a website is worth writing an email to. Links from sites with low to non-existent DR carry close to no weight with them, so investing time and money there isn't the best idea.
One more thing.
There's a great little SEO lifehack that lets you utilise your domain authority score to your own advantage: internal links.
If your website has high DR, it means that links coming from it carry a lot of 'link juice' with them. It works for other websites, so why that wouldn't work for your own?
By linking pages from your website to each other, you pass that link juice to other, less popular pages of your website. Which means, basically, that you can rank purely by linking from one place of your website to another.
At Ahrefs, we love studies and we studied the correlation between internal links and higher Google ranking. And we found it!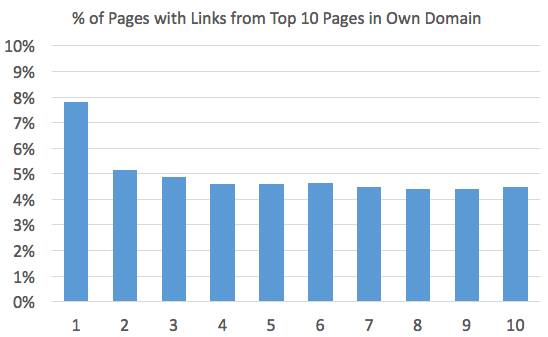 It's small, but often such small things is just what you need to get from page 2 to page 1 in search.
Conclusions
SEO is driven by data. But even with access to SEO toolsets with loads of great data (wink-wink), it's important to use it the right way. Focusing your attention on the wrong things means losing time and money, and nobody wants to lose that.
About the Guest Contributor: Anastasia Ryan
Anastasia Ryan is content marketer at Ahrefs. When not doing marketing, I take care of my cat and watch a lot of Italian movies