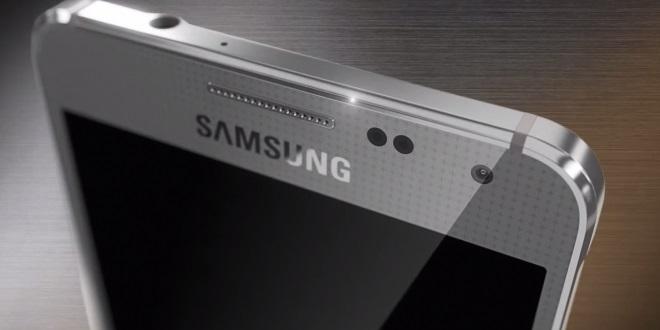 Samsung Series – A Glance:
Last week Samsung Galaxy E7 and Galaxy E5 news was flying in the air and now, it turned to a new discussion of about Samsung's new line of mid-range smartphones plans. Samsung Galaxy E7 specs revealed by GFXBench confirmed that the handset is in the good working process and Samsung is moved ahead planning a new line with it.
(video by Kenna Eving)
Samsung E Series is on a roll in the smartphones market and now more approved comes the Samsung Galaxy E7 specs that leaks through a new benchmark listing. Axed with the upcoming U series, Samsung E Series is alive and in kickable process.
Samsung in this year comes with a lot of new Android handsets in the mid-range and low-end areas of the market and more specifically the details about two models of the upcoming E series was uncovered by SamMobile that revealed that the most of the features are found to be common that includes the Qualcomm Snapdragon chip user and the non-removable battery.
E7 as SM-E7000:
Samsung SM-E700 that had been surfaced from Samsung via a User Agent profile will be launched as Samsung Galaxy E7 that act as a alternative to the Galaxy A7 phablet. It is believed that it will be coated with:
720p resolution
5.5″ screen with 267ppi pixel density
Clocked at 1.5GHz processor
Classic 32-bit architecture
Android 4.4 KitKat
Benchmark Confirmed Specs:

Benchmark Confirmed Specs:
Qualcomm Snapdragon 410 Processor
2 GB RAM
16 GB internal storage along with microSD support
5.5-inch Super AMOLED with 1,280X720 pixels (Galaxy E7)
5 MP front camera
13 MP back camera
Android 5.0 Lollipop OS
2950 mAh battery capacity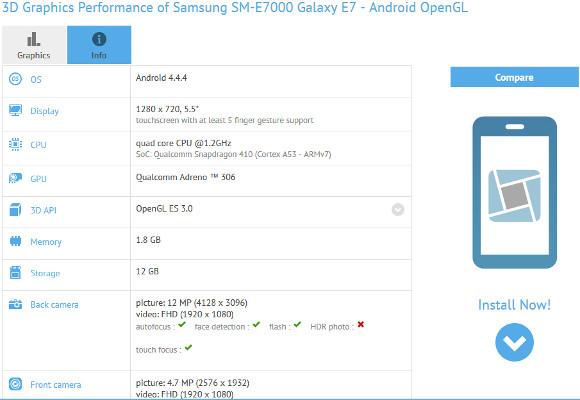 (Benchmark Confirmed Specs)
Samsung Galaxy E7 now as SM-E7000 consists of a 5.5-inch Super AMOLED screen of HD display with a resolution of 1,280 x 720 pixels, 1.2GHz Snapdragon 410 quad-core 64-bit Snapdragon 410 processor that clocked at 1.2GHz and backed by 2GB of RAM. with 16GB of internal storage but not with a microSD card slot and with 2,950mAh battery capacity.
Called by a nick-name Sammy – Samsung always provides good cameras and Samsung Galaxy E7 also consists of a 12MP snapper on the back and in the front with a 5MP sensor. Other feature includes:
Though the benchmarked version came up that it would be sailing on Android 4.4.4 but the latest reveals that the E7 will be with 5.0 Lollipop android OS.
(Video by android news)
As per the previous rumors, Samsung Galaxy E7 is expected to have a metal frame or a metal unibody. Assuming that the Galaxy E7 release date will be in the second half of 2015 and price-wise, it is expect ed that the Galaxy E7 will be going for a pricey, if it comes with a full metal unibody or a metal frame.   Samsung Galaxy E7 will be the first new smartphones form Samsung that created with the company's new philosophy of redesigning their lines and though Samsung said that they would cut back on the number of smartphones from being released by the next year but on viewing the Galaxy sales in 2014 which dropped down much severly, it seems the Galaxy E7 new model will be highlighted more in stores. If you are looking to buy your next smartphone, go to pixmania deal shop page to get awesome deals