Are you looking out for the replacement of the manual receipt system with the digital one which can increase the productivity of your business and can decrease down the extra inessential labor?
The proper evaluation of receipts and the expense reports are vital needs of the company for its finance management. It has been noticed quite often that the manual receipt scanner has caused much more loss and harm to the organization just because of minor mistakes like if someone forgot to collect the receipt, if the sorting and storing of receipt was not done properly. But you don't have to worry now, this digital world always has something to make things glide smoothly. Infact earlier there use to be certain problems regarding the smooth transfer of files from one phone to another in iPhone but in this digital world we have a solution for that as well which is anytrans which serves as an ultimate one-stop solution. In fact, to call it an alternative would be an understatement because with so many flawless features, this program has the potential to replace iTunes completely.
Why should you use a Receipt Scanner app?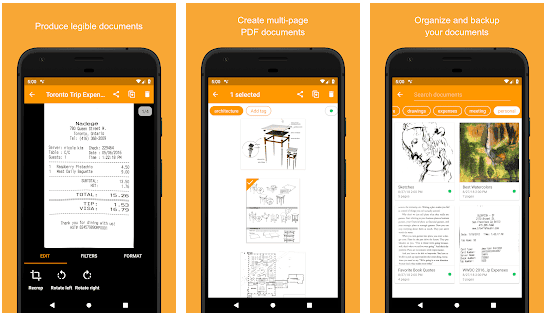 The manual receipt can be replaced by the receipt scanner app in Android as well as iPhone which will overcome all the obstacles faced in your business. There are some great advantages of using the application, mentioned below, that you should definitely check out.
There are no chances of data entry error
It will save a lot of time by eliminating the unnecessary need of printing and collating receipts and expense reports.
You will be able to make submission of expense reports on time.
The special features of Optical Character Recognition can discard the need for manual entry.
The mobile camera can be used as a scanner and with one click you can easily store the valuable date automatically.
Now moving forward, you can find out the best Receipt scanner app from below along with the benefits mentioned specifically:
1. Smart Receipts:
It is a receipt scanner and expense report generator which helps you track receipt data. It generates both PDF and CSV reports of scanned receipts and this can easily be shared with your email accounts. It is a pocket mobile scanner which can generate expense reports anywhere.
Features:
With the use of easily customizable PDF, CSV, ZIP reports you can generate professional reports
It helps in the easy tracking of the expenses.
You can scan the receipt by using camera or by importing it from gallery
You can easily sync your receipts and reports with Google Drive
The OCR (Optical Character Recognition) feature helps in recognizing texts from your scans.
Pricing:
Free version available
Supporting Platform:
2. Expensify:
This is regarded as one of the best expense report generators that provides automated pre accounting processing for expenses, bills, invoices and others. You can easily import the receipt and expense from a phone scanner or even credit cards. It is best for business travelers because it automatically exports expenses so that you don't have to go through the statements.
Features:
It is integrated with your phone's GPS sensor.
It has integration with accounting software like Freshbooks, Xero, Wave, Quickbooks, NetSuite and many more
You can also import from a credit card.
It allows you to submit expense reports through email also.
Reimbursement can be made online via QuickBooks or direct deposit
Pricing:
Free to individuals
$5 per month per employee
Supporting Platform:
Android; iOS (iPhone); Web browser
3. Quickbooks: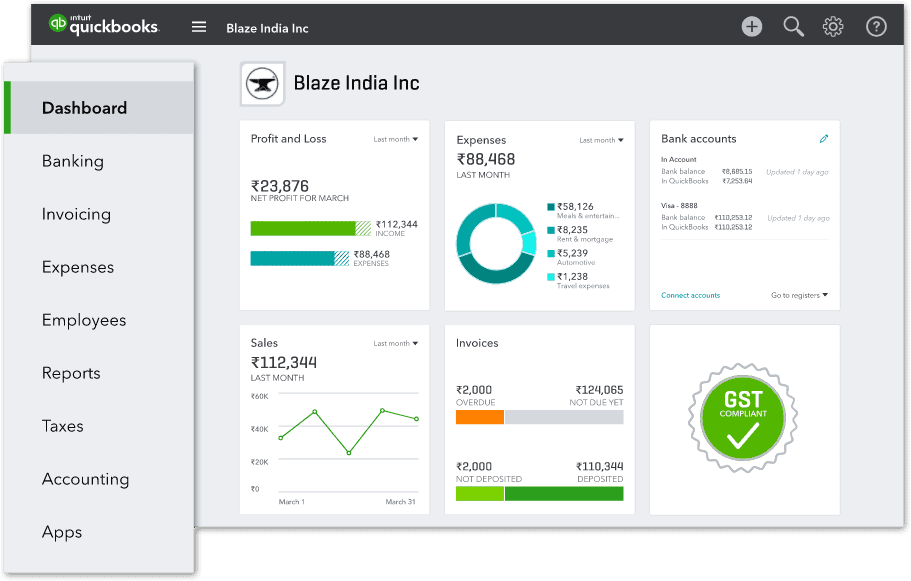 If you have the access to Quickbooks then there is no need for accounting and financial professionals in your business. With the function of receipt scanner it keeps your accounting data organized on the cloud. It is best for accounting savvy business because of its multiple features. This allows you to scan receipts, bookkeeping, creating financial reports and statements all in one place.
Features:
It connects your bank account to automatically import and categorize data.
You can have access to your financial data with the help of Cloud Accounting feature.
You can click pictures of the receipts and can store them on the Quickbooks mobile app
You can even track the invoice with the help of invoicing feature
The Inventory Management features helps you to know about the availability of the stocks and the orders.
Pricing:
Small business: INR 529 per month + 18% GST*
Supporting Platform:
Android; iOS (iPhone); Web browser
4. ABUKAI Expenses:
ABUKAI Expenses are the scanner app with the help of which the receipts can be generated by taking the snapshot of the receipts. The expense reports can be created in many formats like Excel. The process required is firstly taking the picture of the receipt and then clicking the Process Expense Report tab.
Features:
It helps in receipt management
Workflow is managed quite efficiently
It helps in reimbursement management
Availability of multiple currency
Approval Process Control
Pricing:
Standard Corporate: $99/ seat/ year
Custom Corporate: Varies in rate
Individual: $99/year
Free version
Supporting Platform:
Android; iOS (iPhone); Web browser
5. Office Lens:
This is the application developed by Microsoft Team for reducing the burden of storing paper receipts. With the help of this, you can easily take a snap of the receipt from the device and then you can edit it. Finally, you can store that in different formats like PDF, PowerPoint, OneNote and others.
Features:
Easily scan and upload your receipts, documents and notes
Easily scan printed text and handwritten text by using this app
Store all your business card by scanning and storing them in the contact list
Save your scanned images as PDF, Doc, Image, PowerPoint into OneDrive and OneNote.
Pricing:
Free version available
Supporting Platform:
Android; iOS (iPhone); Web browser
6. Evernote Scannable:
If you are searching for the best receipt scanner for iOS, then it is the perfect app for you to install. After clicking the picture of the receipt it will automatically be uploaded in your Evernote account.
Features:
It is cloud based app
Only available for iOS user
You can even scan, retake or discard the image
You can easily access your receipt from anywhere
Pricing:
Evernote Basic: Free to use
Evernote Premium: INR 190/ month
Evernote Business: INR 500/ month
Supporting Platform:
7. Clear Scanner:
This application comes with built in OCR capability. With the help of this feature the receipt text is clearly transcribed and imported. After scanning and saving your receipt as PDF or JPEG, you can easily attach that with your expense reports.
Features:
It syncs with Google Drive, Dropbox, Evernote
OCR camera that can directly scan your receipt
Provides support for corrupted PDFs
Takes less storage space in your device
Pricing:
Free version available
Supporting Platform:
8. Neat Bookkeeping and Scanning:
This is a highly recommended application if you are looking for a team collaboration app. It makes your work a lot easier and smooth by collecting the details of the receipt.
Features:
Smooth pairing of receipts with expenses
Scans are synced across the devices
Filter your transactions and the financial overviews
Pricing:
Neatbooks: $24 per month
NeatFiles: $16 per month
NeatFiles Unlimited: $16.50 per month
Supporting Platform:
9. Receipts by Wave:
You will find that this application is often used by small businesses and startups and it is best known for this. It eliminates all the hustles of gathering paper receipts and preparing spreadsheets.
Features:
You can scan receipt from anywhere
It allows you to review the information before approving it.
It also allows you to sync and keep track of your receipt seamlessly ith the wave account.
Pricing:
Free version available
Supporting Platform:
Android; iOS (iPhone); Web browser
10. Shoeboxed: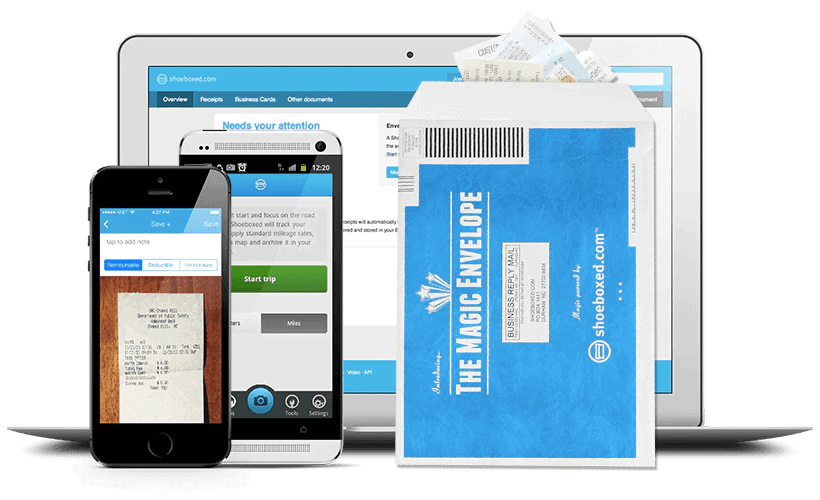 I will definitely recommend this app for you since it consists of all the features required for scanning receipts.
Features:
You can easily recognize the important points present on your receipt and categorize them by dates, total spent, vendors etc
Availability of Magic Envelopes to lessen down your burden by transforming the paper clutter into digital form
Send Export reports with receipt images from anywhere
It automatically archives receipts from Gmail.
Pricing:
Startup: $18 per month
Professional: $36 per month
Business: $54 per month
Supporting Platform:
All these are the best receipt scanner apps that can make your work paperless and save your time by proper organization of the receipt. The receipt attached with the expense reports saves a lot of time and effort. Hence, you should definitely check out this feature packed receipt scanner apps.